Everything You Need To Know About The Scarsdale Diet Menu
During the first initial 14 day phase (referred to as Diet Phase) the diet should be followed to the last letter. The second 14 day phase (referred to as Keep Trip Phase) allows for a lot less "red diet tape".
The Scarsdale Diet delivers when it comes to weight-loss. Because every candidate and their weight-loss priorities is unique, results will vary from person to person. Some dieters reported weight-loss of up to 10 kilogram's or 20 pounds in a mere two weeks.
In between snacking
The majority of eating plans available on the market today recommend no in between meal snacking what so ever, the Scarsdale diet menu however is different. It allows for carrots, celery and low sodium veggie soups snacking. This will help you feel fuller during meals but not over indulged. One of the many advantages of following this diet is that it has been around for a while and many great recipes and meal ideas has developed over the years.
What's for breakfast?
Breakfast is the most important meal of your day. The Scarsdale Diet menu consist of half a grapefruit every day (or other seasonal fruit), a slice of protein bread, served with coffee or tea. Unfortunately sugar, honey, cream and milk additions are totally prohibited.
Substitutions
This unique diet also allows you to substitute some of your meals, to break the routine and shake things up a little! Substitution of lunch on any given day with the following is also allowed as a treat: ½ cup Cottage Cheese mixed with one tablespoon low-fat sour cream. Add any fruit of your choice and six halved pecan nuts. Mix ingredient and served chilled in the form of a sundae.
What happens exactly in the second week?
The second week of the diet (also known as the Keep Trim phase) is a lot easier than the first week, with no structured meal plans and a greater variety of foods on the Scarsdale Diet Menu to pick from. All that's required from you is to stick to the allowed foods and eat them in the right proportion.
Dietary restrictions
Unfortunately like in other diets, restrictions do apply. Desserts, sweets, dairy fats, ice-cream, frozen milk or custard, some pastas and alcohol are all big no-no's. Avoid leading yourself into temptation by thinking a little taste here and there will do no harm. It will! The first bite will lead to the second and so on and so forth.
Tips to make the diet easier
Cook with lots of herbs, seasonings and spices. Salt, mustard, ketchup and chilli sauces are allowed but please use sparingly as some may be very high in calories. Steer clear from corn, potatoes, peas, lentils and beans. Remember to snack on your in-between snack allowances and to eat as much as you want were there is no portion indication.
Consult you physician
It is imperative to consult with your physician before any dietary programmes are initiated. Your doctor will give due consideration to your current health status and medical history before recommending a suitable diet to follow. In general the Scarsdale diet Menu is only recommended for adults with no special dietary requirements.
Get the Scarsdale Diet Companion eBook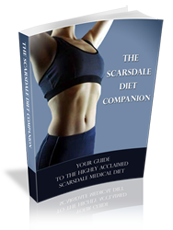 A great eBook to help you lose weight and keep it off! Information that will make your dieting experience a lot easier, enjoyable and more successful. The eBook includes:

[unordered_list style="tick"]
Basic Rules of the Scarsdale Diet
Critical Factors for Losing Weight Rapidly
Complete Scarsdale Diet Meal Plan
96 Great Tasting Scarsdale Recipes
Advantages and Disadvantages of the Diet
Comparison to 8 other Popular Diets
How to Lose up to 20 Pounds in 2 Weeks
[/unordered_list] [button link="https://scarsdale-diet.dpdcart.com/cart/buy?product_id=38617&product_price_id=38804&gateway=clickbank" color="#f69708"]Buy Now | $24.95[/button] Tell me more...