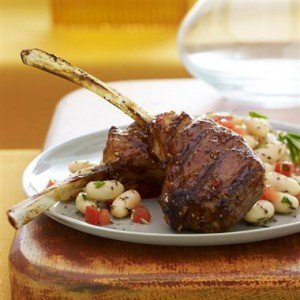 Ingredients:
5 ounces very lean leg of lamb
1/2 cup beef broth
1 garlic clove, crushed (or less, if preferred)
1/2 cup parsley, chopped and mixed with 1 tablespoon dry rosemary
Salt and pepper to taste
1 small red pimento (packed in water or vinegar)
Directions:
Preheat oven to 350 degrees.
Be sure all fat is trimmed from lamb Pour 1/4 cup beef broth in an ovenproof dish.
Rub meat with garlic and herbs. Sprinkle with salt and pepper.
Bake 20 to 30 minutes to taste. Pour remaining broth over meat.
Bake 5 to 10 minutes longer. Slice pimento very finely, and sprinkle over lamb.
Serve hot.
Serves one.